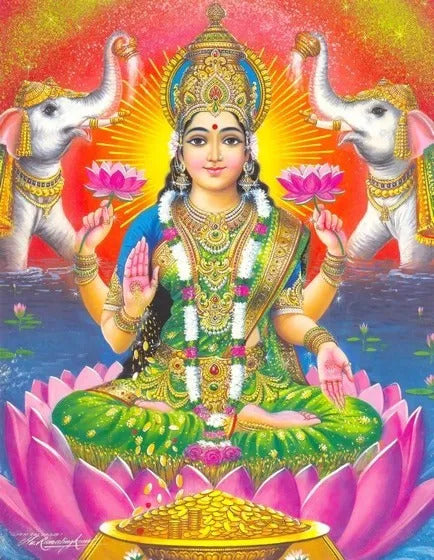 Inviting Prosperity into Your Life with the Goddess Lakshmi 🪙
Lakshmi is the Hindu goddess of wealth, fortune, and prosperity. She is the embodiment of beauty, grace, and charm. In Hindu mythology, invoking Lakshmi can bring good luck, success, and abundance into your life.
One way to connect with Lakshmi is by chanting her mantra. This mantra is one I used to do to bring forth wealth and stability in my life.
I was living in a one-bedroom apartment and couldn't seem to hold on to my coins coming in. Bills, going out, clothes, food, I was in a perpetual state of limbo when it came to generating wealth.
 The mantra for Lakshmi is "Om Hreem Shreem Lakshmibhayo Namaha." To go a step further, use this video that speaks it out and follow along. Lakshmi 
When chanting this mantra, it's important to focus on the intention of attracting prosperity into your life. What does prosperity look like to you? 
Start by sitting in a comfortable position with your spine straight and your eyes closed. Then begin chanting the mantra slowly and steadily. Repeat it as many times as you feel comfortable doing so.
In addition to chanting the mantra, there are other ways to honor the Lakshmi inside of you. You can create an altar dedicated to her with offerings such as flowers, candies, gold coins and incense. You can also read stories about her and learn more about her qualities.
Overall, connecting with Lakshmi through her mantra can be a powerful tool for attracting prosperity into your life. Remember to approach it with an open heart and mind, focusing on positivity and abundance rather than lack or scarcity.
Dream Wise