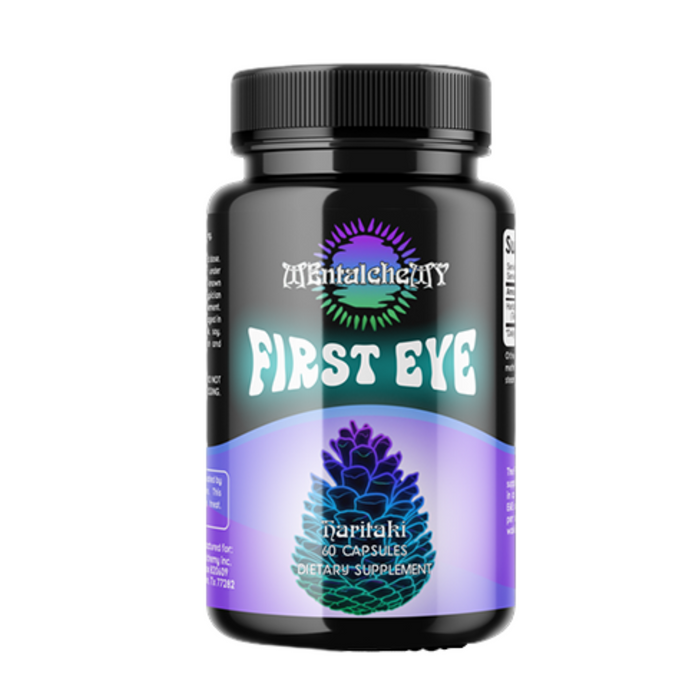 Haritaki First EyE Supplements
Sold out
Original price
$29.99
-
Original price
$78.00
For those searching for a little more than regular supplements, our haritaki terminalia chebula capsules are the right option! Made with 100% pure haritaki extract, our capsules can help to provide cognitive support, while enriching your spiritual life by awakening intuition and opening the 3re eye.
What makes this product special?
Our excellent haritaki capsules may have a positive impact on your memory and focus functions. The capsules deliver 1000mg of pure haritaki extract per serving so you get to enjoy the amazing properties of this ingredient. The haritaki powder can also help with the flow state and supports the mental process. 
(Key Product Features)
Optimal Solution for Your Wellness: The First Eye terminalia chebula capsules are more than your regular multivitamins. These supplements are designed not just to support the proper functioning of your cognitive system but also to sharpen your senses and intuition, helping you open your 3rd eye.
Many Benefits: Our terminalia chebula capsules are ideal for boosting your cognitive function by sharpening your memory and focus, improving energy levels, and promoting inner awakening.
Food for the Soul: Unlike other dietary supplements on the market, our haritaki terminalia chebula capsules are also formulated to help you awaken your spirit and get in touch with your First eye. The capsules may work to improve your intuition and access your mystical powers.
Safe Formula: With our capsules, safety is never a reason to worry. Each serving provides 1000mg of terminalia chebula extract for optimal effects. The capsules are free from harsh fillers and are made in the USA, checking the highest quality requirements in the area.
Jumbo Pack: Our haritaki supplement comes in a pack of 60 capsules that are the equivalent of a monthly supply of your favorite enhancers. The capsules are easy to swallow and come in compact packaging for easier use.
Some features to keep in mind about our product:
·         Total count: 60 capsules;
·         Made in the USA;
·         Developed in a GMP registered facility:
·         Amount per serving: 1000mg;
·         Serving size: 2 capsules;
·         May help to support the cognitive function, memory, and focus;
·         Can help to awaken intuition and unleash mystical powers
·         3rd eye-opening;
·         Natural formula;
·         Free from harsh fillers;
·         May assist the process of natural internal cleansing;
·         Made with 100% pure haritaki extract.
Improve your lifestyle with our excellent haritaki supplements!