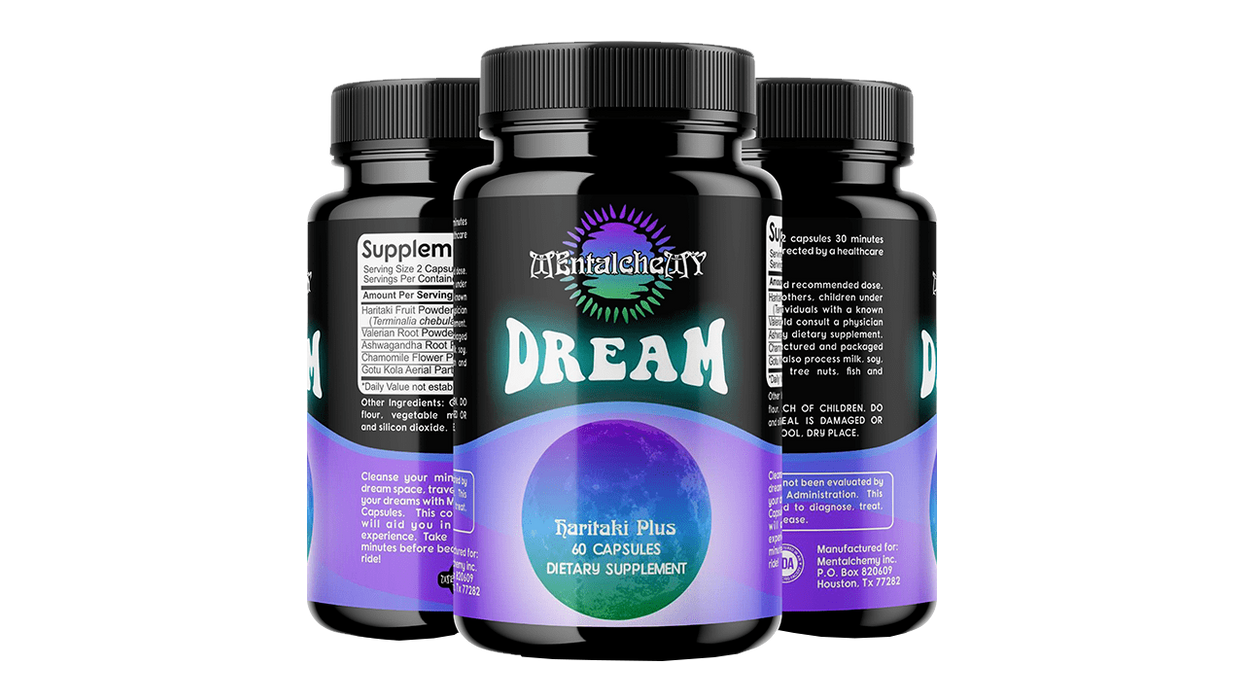 Dream Time Super Haritaki Supplements
Sold out
Original price
$42.99
-
Original price
$42.99

PRODUCT DESCRIPTION
Unlock the power of the Astral Realms with the Dream Haritaki Supplement!
By taking this supplement, you can journey into the dream world and explore its vast potential.
From gaining insight into difficult decisions to unlocking creative and spiritual inspiration, the dream world is full of possibilities that could benefit your life.
When taken before bedtime, the Dream Haritaki Supplement helps relax your body and mind while putting you in a state of heightened awareness.
This allows you to draw from your unconsciousness, allowing inspiration and guidance to flow freely. As you enter the dream world, you will experience deep relaxation and increased mental clarity that can help in problem-solving and recognizing inner truths about yourself.
In addition, experiencing new environments through dreams has been found to boost creativity and open up further avenues for exploration.
Start taking this powerful supplement today and explore what wonders await you in the dream world!
Terminalia chebula or Haritaki has been used in the ancient Indian system of Ayurvedic medicine for thousands of years. Known as the "King of Medicines", this nature's gift is cultivated from the seeds of the aforementioned tree.
Haritaki is also one of the constituents of the herbal medicine Triphala and is known to be an overall rejuvenating herb. Quickly get into a Relaxed State! 
Travel into the land of blissful spiritual dreams with Mentalchemy Haritaki Capsules.
MENTALCHEMY HARITAKI CAPSULES
Haritaki is widely celebrated as yogic super brain food due to its incredible positive effects on the Pineal Gland. It is known to cleanse the gland of toxins and open it to the realm of spirituality.
This amazing herb also frees your mind of worldly stress and allows it to project astrally.
Consumption of Haritaki is also known to have other positive effects on the human body like reduction in oxidative stress, cavity prevention, pain relief, and more.
Also known as a dream herb, Haritaki helps you lucid dream and then recall them.
Each serving of 2 capsules consists of 1280 mg of a powerful formulation consisting of Haritaki (750mg) in combination with other beneficial ingredients such as Valerian Root (70 mg), Ashwagandha Root (90 mg), Chamomile Flower (150 mg), and Gotu Kola (220 mg).
One single bottle comes with 60 capsules.
KINDLY NOTE
Please consult your physician before you start taking any herbal supplements and stop immediately if you experience any discomfort.
WE OFFER A 100% CUSTOMER SATISFACTION GUARANTEE!
All our products are made under strict compliance with stringent quality standards!
So, why worry? ORDER NOW to receive these incredible haritaki capsules and deepen your spiritual journey!
BULLETS
BEST HARITAKI SUPPLEMENT CAPSULES – Cleanse your mind, enter a blissful dream space, travel astrally, and recall your Dreams with Mentalchmey DREAM Capsules. Known to cleanse the pineal gland of toxins, these Combination of herbs assists you in your Dreaming experience.
COMBINATION OF TRADITIONAL KNOWLEDGE – Packed with the ancient knowledge of the Indian sages, our Haritaki Supplement capsules are designed to give you all the benefits of thousands of years of research and study which will provide your body with vital strength.
NATURAL INGREDIENTS – Made from natural and organic ingredients, our traditional formula contains a high concentration of Haritaki (750mg) in combination with other beneficial ingredients such as Valerian Root (70 mg), Ashwagandha Root (90 mg), Chamomile Flower (150 mg), and Gotu Kola (220 mg).
STRESS RELIEF FORMULA – A powerful natural adaptogen, Haritaki helps to relieve worldly stress and provides you with a calm mental state – enjoy a good night's sleep after taking this supplement! Each serving of 2 capsules contains 1280 mg of the formula.
SURPRISE YOUR LOVED ONES – Provide your loved ones with a thoughtful gift and show that you care for all festive and non-festive occasions like Birthdays, Anniversaries, Valentine's Day, Thanksgiving, and more! One bottle comes with 60 capsules.